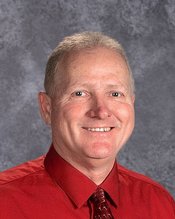 Martin Cook, Superintendent
Dear Students and Parents,
On behalf of the faculty, staff, and board of education, I would like to welcome you back for the start of a new school year. As this new school year begins, we have high expectations for the students and staff of our district. We believe that every student has the capacity to learn and should be challenged intellectually on a daily basis. The education that students receive here at CUSD # 3 will be the foundation for which they build their future.
I passionately believe that our school district is an outstanding district that has the opportunity to become a model for others to emulate. Our schools are known for strong community support and I believe that this shows in the quality of our students.
We want this website to be a useful tool that provides information about our district and the activities that take place on a day-to-day basis. Please use the district calendar on our web page as a reference source to help keep you up to date with school activities.
In order for our children to succeed, it is critical that parents become actively engaged in their child's education. By becoming involved and letting our children know that we value education and have expectations for their academic progress, together we can work to raise the achievement level for all students in the district.
Please feel free to call me or stop by the board office if ever I can be of service to you. Our central office staff of Debbie, Theresa, and myself will do all we can to help answer your questions.
Welcome back and I look forward to working with you this year!
- Marty Cook, Superintendent