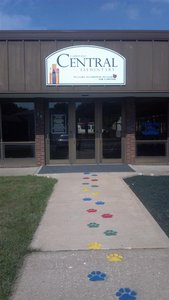 WE ARE CENTRAL!
Central Elementary

(p) (217) 593-7795

(f) (217) 593-6514

109 W. School St. / 2110 Hwy 94 N
CES CMS PTO Facebook Site
Camp Point, IL 62320

WE LEARN.

WE EMPOWER.

WE LEAD FOR A LIFETIME!
April Calendar
Sun

Mon

Tue

Wed

Thu

Fri

Sat

1

2

3 No School for PreK

PreK Screenings 1:00-6:00 PM

PTO Meeting 6:30 CES Library

4 No School for PreK

PreK Screenings 1:00-6:00 PM

5

6 PTO Spring

Carnival 5:00—7:30 PM

7

8

9

10 First Grade Spring Concert at CES 7:00 PM

11

12

13 Spring Fling Parties 12:45 PM

Early dismissal for Easter break 2:00 PM

Book Fair begins

14 Good Friday - No School

15

16 Happy Easter!

17 No School -

Easter Break

18

Book Fair Week

19

20

21

22

23

24

25

26

27

28

29

30

May 3rd—Mini Relay at the CHS track 8:30—10:30

May 4th—PreK Field Trip

May 18th—Kindergarten field trip

May 16th—First grade field trip

May 18th—Second grade field trip
April Newsletter
April already; warm weather seems to be here off and on. With spring here we will be conducting our last fire drill and it will be an unannounced drill. Our staff does a great job preparing our students for these mandated crisis drills.
With the crazy weather this time of year, make sure your child is prepared to go outside for recess. We try to get the students out as much as possible.
This month we have PreK Screenings, Spring Carnival, Book Fair and Easter Break. Check the calendar on the other side of this newsletter for all these great events and days off. Since we are having PreK Screenings on April 3rd and 4th – morning and afternoon Pre K will not be in session either one of these days.
Mini-Relay is on May 3rd this year and we will continue our focus on raising funds for Cancer Research. Students will be going to the CHS Track for games and education on cancer prevention and awareness. The Mini Relay Committee will be sending out information soon about different ways to participate and raise money. Please assist in any way to help CES, our school district, and the American Cancer Society fight Cancer.
The PTO will be holding the Spring Carnival on April 6th and we are looking forward to having everyone come and volunteer and enjoy the evening to help raise funds for the PTO. The PTO is an excellent organization and I would like to thank them again for continuing to fund school projects that help benefit our students in a state-wide budget crisis. Please come out and support the PTO and the CES staff and students on this great night.
As we are approaching the end of the year, be looking for dates for each class' field trip information on your student's newsletters from his or her teacher. They usually start in May; closer to the middle of the month. I will have them on the May newsletter and calendar.
School is winding down, but April is going to be very busy. To give everyone an idea, our last full day of school will be on May 23rd and May 24th will be a Teacher Institute Day (no students in attendance). We are planning a special Family Leadership Day in the afternoon on May 23rd.
Remember to continue to turn in Campbell Soup Labels, Box Tops, HyVee labels, and Our Family Labels. Thank you for your support by turning these in to CES.
Have a Great April!
Thank you,
Eric Stotts, Principal
Employee Information