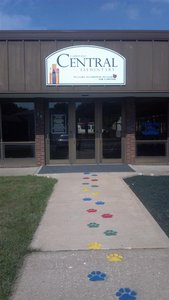 WE ARE CENTRAL!
Central Elementary

(p) (217) 593-7795

(f) (217) 593-6514

109 W. School St. / 2110 Hwy 94 N
CES CMS PTO Facebook Site
Camp Point, IL 62320

WE LEARN.

WE EMPOWER.

WE LEAD FOR A LIFETIME!
May 2017 Newsletter
Is it May? Where has this school year gone? Field Trips are coming up quickly for some classes as the end of the year approaches. As we wind down our school year we have some very important dates and activities for our students at CES.
Mini-Relay for Life will be on Wednesday, May 3rd from 8:30 – 10:30 AM. From April 26th to May 3rd, all students at CES, CMS, CJHS, and CHS are synergizing to raise funds for cancer research for the Adams County Relay for Life. On May 3rd, students will be going to the CHS track for an educational opportunity on being tobacco free, skin protection, eating healthy, and exercising regularly.
The school year is winding down and we would like to ask that we keep lunch accounts paid. Also, please make sure all library books that your child has brought home is returned so that future students can enjoy them as well.
Last Day of School: Thursday, May 23rd is the students' last day of attendance with a dismissal time of 2:00 PM and teachers will have a work day on May 24th. Teachers will send the report card home in their book bag on May 23rd or mail it by May 25th.
Family Day will be on May 23rd from 12:00 – 1:55 PM. All students will be having lunch that day at 11:00 AM. Parents are welcome to attend Field Day from 12:00 – 1:50 PM. Lunch will not be provided for parents.
I wanted to thank the PTO for another great Spring Carnival. Parents and students enjoyed our games in the gym, the cake walk, bingo, and of course the food. Everything went very well and I am so happy to have such a great group of parents working for the students of Central Elementary School and Central Middle School.
Box Tops: Thank you for sending in your Box Tops! This year we collected over $1000 worth of Box Tops and it helped with quite a few different purchases over the year to help with our budget reductions.
Teacher Appreciation Week is from May 1st – 5th.
Important Days to Remember in May are on the Calendar on the other side.
Have a great summer!
Mr. Stotts, Principal
Employee Information